Summit City Chevrolet Car Giveaway
Saturday, December 12th, 2015 2:00pm
How about a NEW CAR for the holidays? Win a NEW Chevrolet from Summit City Chevrolet, BestFM 95.1, and Jefferson Pointe, or a $10,000 Shopping Spree at Jefferson Pointe!
Drawing to be held Saturday, December 12th at 2pm at Jefferson Pointe
Located within the Children's Play Area
Tune into 95.1 BestFM for your chance to qualify!
Magical Day of Giving 2015
October 10, 2015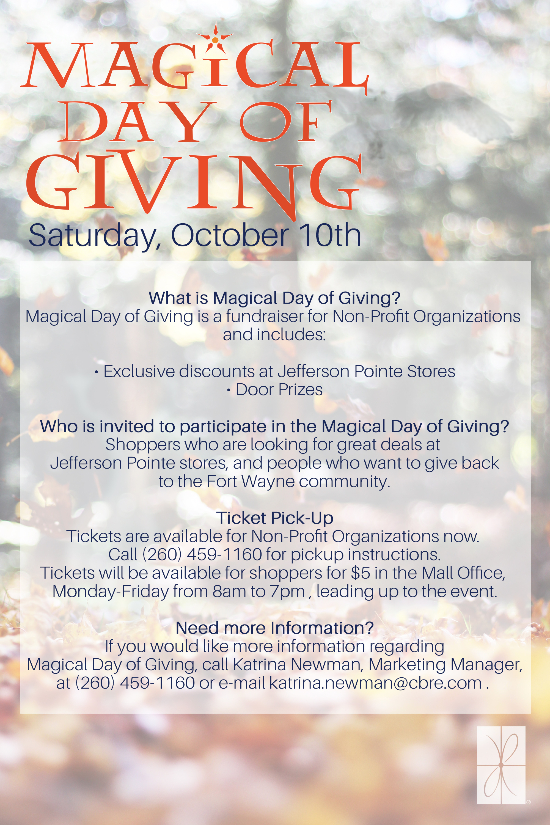 Magical Day of Giving
Jefferson Pointe Shopping Center
Saturday, October 10th 10am-9pm
What is Magical Day of Giving?
Magical Day of Giving is a fundraiser for Non-Profit Organizations and includes:
• Exclusive discounts at Jefferson Pointe Stores
• Door Prizes
Who is invited to participate in the Magical Day of Giving?
Shoppers who are looking for great deals at Jefferson Pointe stores,
and people who want to give back to the Fort Wayne Community.
Ticket Pick-Up
Tickets are available for Non-Profit Organizations now. Just call
459-1160 and ask us how to pick them up. Tickets will be available for shoppers
for $5 in the Mall Office, Monday-Friday from 8am to 7pm , leading up to the event!
Information
If you would like more information regarding the Magical Day of
Giving, call Katrina Newman, Marketing Manager at
260-459-1160 or e-mail Katrina.newman@cbre.com .
Enjoy all the current deals for Magical Day of Giving with a $5.00 ticket:
Williams Sonoma-10% off entire purchase
Chick-Fil-A - Free Original Or Spicy Chicken Sandwich
Ben's Soft Pretzels- Jumbo Pretzel and dip only $2.00!
O'Charley's - Free Pie with Purchase Of Entrée
Great American Cookies- 15% off all purchases
Summit Sports, Comics and Games- Buy any 2 items and the 3rd item of equal or lesser value is free. **excludes packs and completer card sets.
Tilted Kilt- buy two entrees, receive free Irish Nachos
Nut House- $3.00 off a $10.00 Purchase
Carmike Cinemas- Free small regular popcorn
Yankee Candle- 20% off you entire purchase
Mainstream Boutique- Buy one Cami get the 2nd at 50% off
Red Mango- Buy one yogurt get the 2nd cup of equal or lesser value 50% off
Poptique Popcorn- Free small bag of gourmet popcorn of your choice or 10% off any purchase.
Petshion- 20% off entire purchase. Offers can not be combined, excludes bagged food and grooming.
Painting Fun Spot- 25%off all Paint and take items!
Vera Bradley- $20 off purchase of $75 or more
Aveda-Free 20 min facial, free cup of Aveda tea and customized samples

2015 Job Fair
Thursday, October 8th. 11am-6pm


Thursday, October 8, 2015
11:00am - 6:00pm
Located within the Children's Play Area

Stores participating in Job Fair:
Victoria's Secret
GameStop

Current Job Openings at Jefferson Pointe:
http://www.jeffersonshopping.com/jobs
Christmas Tree Shows Nightly - A Tradition Of Sights and Sounds
Nightly from 6pm-10pm (every half hour)

What is the Tradition of Sights and Sounds?
Fort Wayne's Tallest Christmas Tree has synchronized its lights to music every night beginning at 6pm. From November 15, 2015 - December 25, 2015, the lights will be synchronized to holiday themed music. From December 26, 2015-January 11, 2016 the lights will synchronize to upbeat musical favorites to celebrate the New Year!
Show Times Nightly Nov. 15th - Jan. 11th:
6:00pm
6:30pm
7:00pm
7:30pm
8:00pm
8:30pm
9:00pm
9:30pm
10:00pm