7th Annual Safety Fair
September 12th 10am-1pm
Brought to you by Servpro and Jefferson Pointe.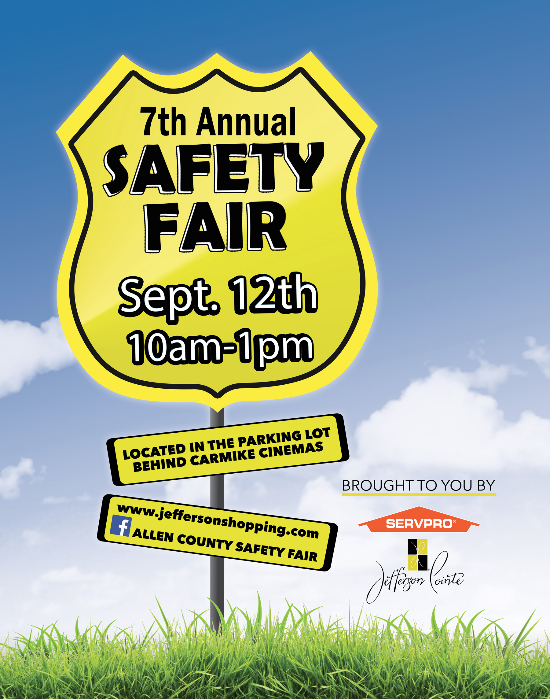 Here is a current list of confirmed participants:
1. Servpro: Mobile Command Center, Cornhole game, FREE Hot Dogs, Tote Bags & Band-aid Dispensers, and Home Emergency Kits (all while supplies last)
2. Allen Co. Homeland Security: Family & Individual Preparedness
3. Chick-fil-A: FREE Sandwiches (while supplies last), Cow mascot
4. Lutheran Hospital: Adult Trauma Services, MICU (Mobile Intensive Care Unit), Peds ED & Lutheran Air helicopter.
5. Allen Co. Safe Kids Coalition: Car seat safety checks (and car seats for purchase to those who need them), Button Battery safety, ATV safety, Edible Spinal Column & Halloween Safety Tips. Trauma Roo mascot too!
6. WANE TV: Nicholas Ferreri, 15 Fury Storm Tracker & the NewsChannel 15 Mobile Newsroom!
7. Miss Fort Wayne Program: Katelin Vogel
8. Walgreens: FREE blood pressure checks & FREE flu shots (while supplies last)! Plus giveaways!
9. WBCL: Van & DJ broadcasting LIVE from the event!
10. FW Fire Dept: Safety Village & Spotz the Dog mascot!
11. New Haven Fire Dept: Survive Alive Trailer (Fire & Tornado Safety)
12. FW Police Dept: Bomb Unit with robot
13. Kendallville Fire Dept: Mass Casualty Trailer
14. Woodburn Fire Dept: Fire Truck, Fire Equipment, FREE plastic fire helmets (while supplies last), & Fire Extinguisher Safety (P.A.S.S)
15. FW Hazmat Unit: Hazmat Vehicle, Meters
16. Allen Co. Sheriff's Dept: K-9 Officer with Dog
17. Department of Natural Resources: Water Safety
18. Orthopedics Northeast (ONE): Finger Casts for Kids
19. St. Joe Burn Unit
20. Animal Care & Control: Bite Safety, FREE Bookmarks, Magnets & KIND Bars! (while supplies last)
21. Three Rivers Ambulance: Tour an Ambulance
22. The Red Cross: Information on CPR, First-Aid, Health & Safety. Plus, Blood Drop the mascot!
23. Wise Insurance: Fingerprinting for Kids
24. 911 Communications: "What's Your Emergency" Video
25. Traveler's Protective Association: CHAD Program
26. Tilted Kilt: FREE Food Samples (while supplies last)
27. The Great American Cookie Co: Mascot & FREE Samples! (while supplies last)
28. Tucanos: FREE Frozen Lemonade Samples (while supplies last)
Summit City Chevrolet Car Giveaway
Saturday, December 12th, 2015 2:00pm
How about a NEW CAR for the holidays? Win a NEW Chevrolet from Summit City Chevrolet, BestFM 95.1, and Jefferson Pointe, or a $10,000 Shopping Spree at Jefferson Pointe!
Drawing to be held Saturday, December 12th at 2pm at Jefferson Pointe
Located within the Children's Play Area
Tune into 95.1 BestFM for your chance to qualify!
Magical Day of Giving 2015
October 10, 2015

Magical Day of Giving
Jefferson Pointe Shopping Center
Saturday, October 10th 10am-9pm
What is Magical Day of Giving?
Magical Day of Giving is a fundraiser for Non-Profit Organizations and includes:
• Exclusive discounts at Jefferson Pointe Stores
• Door Prizes
Who is invited to participate in the Magical Day of Giving?
Shoppers who are looking for great deals at Jefferson Pointe stores,
and people who want to give back to the Fort Wayne Community.
Ticket Pick-Up
Tickets are available for Non-Profit Organizations now. Just call
459-1160 and ask us how to pick them up. Tickets will be available for shoppers
for $5 in the Mall Office, Monday-Friday from 8am to 7pm , leading up to the event!
Information
If you would like more information regarding the Magical Day of
Giving, call Katrina Newman, Marketing Manager at
260-459-1160 or e-mail Katrina.newman@cbre.com .
Enjoy all the current deals for Magical Day of Giving with a $5.00 ticket:

• Chick-Fil-A - Free Original Or Spicy Chicken Sandwich
• Ben's Soft Pretzels- Jumbo Pretzel and dip only $2.00!
•O'Charley's - Free Pie with Purchase Of Entrée
•Great American Cookies- 15% off all purchases
• Summit Sports, Comics and Games- Buy any 2 items and the 3rd item of equal or lesser value is free. **excludes packs and completer card sets.
FUNCTIONAL FITNESS CLASS - hosted by CrossFit Fort Wayne
Saturday, August 29th | 9:00am

Functional Fitness Class
Saturday, August 29th | 9:00am - 10:00am
Courtyard Fountain
hosted by CrossFit Fort Wayne

Wear sneakers and comfortable clothes!
Bring a towel and drinking water.

MORE INFORMATION COMING SOON!
Christmas Tree Shows Nightly - A Tradition Of Sights and Sounds
Nightly from 6pm-10pm (every half hour)
What is the Tradition of Sights and Sounds?
Fort Wayne's Tallest Christmas Tree has synchronized its lights to music every night beginning at 6pm. From November 15, 2015 - December 25, 2015, the lights will be synchronized to holiday themed music. From December 26, 2015-January 11, 2016 the lights will synchronize to upbeat musical favorites to celebrate the New Year!
Show Times Nightly Nov. 15th - Jan. 11th:
6:00pm
6:30pm
7:00pm
7:30pm
8:00pm
8:30pm
9:00pm
9:30pm
10:00pm